Christmas In Lapland
7 Days / 6 Nights
from
€0.00
You will stay in saariselka with its dazzling with landscape as well as in rovaniemi. Near rovaniemi you are treated to a night in a glass igloo, and weather permitting, you will see the magnificent northern lights from your bed. Santa claus will be expecting you at santa claus village. You will also experience a visit at the sami reindeer farm and sleigh ride, as well as a husky safari. Round off your journey with a visit to the kings of the arctic, the polar bears, living in their natural northern conditions at ranua wildlife park.
Reviews 0 Reviews

0/5

Vacation Style Holiday Type

Adventure holidays, Package holidays, Winter activities

Activity Level
All about the Christmas In Lapland
7 Days / 6 Nights.
GUARATEED DEPARTURES 2023
| | |
| --- | --- |
| MONTHS: | DATES: |
| DECEMBER | 20 |
EXPERIENCE THIS UNIQUE JOURNEY TO LAPLAND AND BE AMAZED BY A BLEND OF FIRST-CLASS TRAVEL AND THE MOST FASCINATING AND INVIGORATING WINTER ACTIVITIES IN THE REGION. YOU WILL STAY IN SAARISELKA WITH ITS DAZZLING WITH LANDSCAPE AS WELL AS IN ROVANIEMI. NEAR ROVANIEMI YOU ARE TREATED TO A NIGHT IN A GLASS IGLOO, AND WEATHER PERMITTING, YOU WILL SEE THE MAGNIFICENT NORTHERN LIGHTS FROM YOUR BED. SANTA CLAUS WILL BE EXPECTING YOU AT SANTA CLAUS VILLAGE. YOU WILL ALSO EXPERIENCE A VISIT AT THE SAMI REINDEER FARM AND SLEIGH RIDE, AS WELL AS A HUSKY SAFARI. ROUND OFF YOUR JOURNEY WITH A VISIT TO THE KINGS OF THE ARCTIC, THE POLAR BEARS, LIVING IN THEIR NATURAL NORTHERN CONDITIONS AT RANUA WILDLIFE PARK.
FEATURES:
Winter activities
1 night in a Glass Igloo
Reindeer farm visit with sleigh ride
Rovaniemi and Santa Claus Village 
Husky Farm & Safari
A visit from Santa Claus at Santa Claus Hotel
2 Christmas gala dinners
Ranua Wildlife Park
The tour package inclusions and exclusions at a glance
What is included in this tour?
Items that are included in the cost of tour price.
6 nights in First Class hotels in standard double/twin rooms with private facilities 
6 breakfasts, buffet style
4 dinners, 2 lunches (all lunches & dinners are 3-course meals or buffets including coffee, unless otherwise specified)
Bi-lingual Tour Escort (English & Spanish or Portuguese) from Day 2 to Day 7 inclusive

Regular arrival transfer from Ivalo Airport 
Regular departure transfer to Rovaniemi Airport 
The long-distance coach from day 2-6 offers WIFI
All tours and transportation, as mentioned in the program
Visits, excursions and entrances as mentioned in the program
Outdoor clothing for winter activities/safaris as mentioned in the program. For further information please consult the general conditions
Luggage allowance is 1 suitcase & 1 piece of hand luggage per person
Please note! Regular Transfer Services included in the program are only available for transfers from Ivalo Airport & to Rovaniemi Airport and only on the published official date of end of the tour. The transfers are escorted by an English-speaking driver and is shared with other fellow passengers; therefore, minor waiting time  may occur. This transfer service is not valid for passengers with pre/post nights or passengers who require private transfers – for a supplement, private transfers can be reserved. 
What is not included in this tour?
Items that are not included in the cost of tour price.
Beverages or any extras
Porter Service
Any services not mentioned in the program
Day 1 WEDNESDAY December 20th

Arrival to Ivalo Airport and regular transfer to the hotel for check-in. In Saariselkä, in the far north of Finnish Lapland, lies the popular resort of Inari-Saariselkä. The unique northern countryside, national parks, lake areas, rivers and highland fells offer a wealth of opportunities for year-round travel. In winter, the Northern Lights dance across the sky up to 200 days a year. The legendary Saariselkä is the northernmost travel destination in Finland and boasts a variety of services. In Inari and other villages in the area, the Sami culture is still very much in evidence in everyday life. Here is where you find the genuine Lapland. Please consult the Via Hansa & Borealis welcome letter, which you will receive upon check-in to your hotel, and kindly note where and when to meet your Tour Director.

Day 2 THURSDAY December 21st

In the morning, get ready for some fresh air activity literally following the footsteps of the Sami. 

| | |
| --- | --- |
| SNOWSHOES SAFARI | INCLUDED |
| DURATION: approximately 1 hour 30 minutes  | |

Put on your snowshoes and feel the crunch of snow under your feet.  Capture the true feeling of winter in the northern woods as you explore the nearby white wilderness of forest and hills and Urho Kekkonen National Park, surrounding Saariselkä. The afternoon is at leisure and we recommend trying a Finnish sauna, available at the hotel.

OPTIONAL: AURORA BOREALIS BY HEATED SLEIGH 
PRICE: 180 EUR/PERSON
DURATION: approximately 2 hours 

INCLUDED: Thermal outfit, English guide, Hot juice and cookies 

The silent and snow-covered forest, night fell on the edge of the boundless desert and the magical Northern Lights above you. Take a seat on the heated Aurora sleigh and enjoy!

Your guide tows the sled with a snowmobile through the snowy, lunar and starry landscape, to the top of the fall, away from residential areas and their light pollution. After arriving, we set up our cameras and take pictures of the northern night sky.

We wait for the Northern Lights to appear comfortably by the fire, enjoying hot drinks and listening to tales until someone sees the first aurora. Now your imagination is the only limit: the Northern Lights fluttering across the sky, the constellations, the snow-capped trees and the bright snow-capped hills… How will you compose your photos?





Day 3 FRIDAY December 22nd

In the morning after breakfast, the adventure continues as we make our way to Santa´s Igloos, located 10 km from Rovaniemi. Along the way, we will visit one of the highlights of the tour. 

SAMI REINDEER FARM VISIT & SLEIGH RIDE
INCLUDED
DURATION: approximately 2 – 2,5 hours (12:00 -14:30) 

INCLUDED: a traditional 3-course lunch, reindeer sledge ride, Arctic Circle Crossing Certificate

Meet the traditional Sami farmers who will tell you about the reindeer, and its importance to the Sami culture. Sitting in a two-person sleigh, pulled by your reindeer, you will experience a short ride in this traditional and peaceful way of moving through the white landscape where the only sound you will hear is the melody of reindeer bells. A typical local three course lunch is included at the farm.

| | |
| --- | --- |
| OVERNIGHT IN A GLASS IGLOO | INCLUDED |

The journey continues south to Santás Igloos following the winding roads through the snowy forest and arriving at the unique Santa´s Igloos, where you will check-in to your private Glass Igloo. Enjoy the warmth of your Glass Igloo and weather permitting you will have the opportunity to marvel at the amazing Northern Lights (Aurora Borealis) and the millions of stars from the comforts of your bed..

Day 4 SATURDAY December 23rd

In the morning after breakfast, you will travel by bus to Rovaniemi where you will check-in at Santa´s Hotel Santa Claus and your Christmas adventure can begin. Once you have settled into the hotel, you can enjoy a buffet dinner of traditional Lappish food. You may choose to round off the night with the unique experience of a Finnish sauna included.

OPTIONAL: Arctic ice floating – Day floating

PRICE /PERSON : 110 EUR
Children 7- 14: 86 EUR
Minimum height for floating is 120 cm 

DURATION: 3 hours (14:00-17:00) Snack included

MEETING TIME: 13:45 at the hotel reception

INCLUDED: transportation, thermal outfit, guide, hot drinks

Come and experience the lightness of your body during the arctic ice floating! Don't fear the cold as you are totally protected with high quality rescue suit. Let your body and mind float, enjoy this frozen adventure. This guided adventure is safe with a high-quality rescue suit that covers your whole body and keeps you dry. As you have your own clothing under the suit you will not get cold even in the open 0-degree water. Lying down in the ice hole between the ice blocks is something worth trying, the circumstances truly are arctic!   REQUIRES PRE-BOOKING

OPTIONAL: AURORA BOREALIS SAFARI BY SNOWMOBILES 

PRICE /PERSON : 175 EUR
Children 7-14 : 102 EUR
Single supplement : 55 EUR

DURATION: approximately 3 hours (18:00 – 21:00). Snack, hot beverage included

MEETING TIME: 19:45 at the hotel reception

INCLUDED: transportation, thermal outfit, guide

Drive through the wilderness and discover the phenomena of the northern sky at our Northern Lights base. Experience the Arctic night by driving through the snow-covered forest and on the frozen river. With a little luck, you will travel under a bright sky lit by the moon and the stars. Perhaps the Aurora Borealis – the Northern Lights – will appear to show you the way. Sip warm beverages and savor a snack by a campfire and learn more about the Northern Lights and the beauty of Lapland. REQUIRES PRE-BOOKING

*Note: To drive a snow mobile in Finland you must have a valid driver's license from a country of issue which has signed the Road Traffic Convention of Geneva. Via Hansa & Borealis cannot accept responsibility for licenses that are not accepted. Please consult if you have any doubts.

Day 5 SUNDAY December 24th

Enjoy a Scandinavian breakfast buffet before going on your next adventure, the Husky Farm and Safari.

| | |
| --- | --- |
| HUSKY FARM & SAFARI | INCLUDED |
| DURATION: approximately 2 hours  | 2 persons per sledge (self-driving) |

The barking of enthusiastic dogs will welcome you to the most genuine Husky farm in Rovaniemi. The head musher will talk about the life and training of these Arctic animals and you will also have the chance to take some great photos. After brief instructions you embark, riding in pairs, on a run through the forest behind your pack of huskies (3 km).

The day continues with a visit to the world-famous Santa Claus Village, built right on the Arctic Circle and home to Santa Claus. Stop by his busy post office where you can ask Santa to send a letter to your loved ones just before Christmas. Take a step into the magical world of Santa´s home and meet Santa himself. No words can describe the emotions of this fairy-tale-like moment. It is something you will always remember. An absolute must for any visit to Lapland. 

| | |
| --- | --- |
| VISIT FROM SANTA CLAUS & CHRISTMAS EVE GALA DINNER | INCLUDED |
| | |

At approximately 16:00, all children are invited to participate in the traditional activity of decorating the Christmas tree. Around 18:00 Santa Claus will pay a visit to the hotel where he will deliver Christmas presents to our youngest guests. There will be a small gift per child from the hotel and the possibility for families to arrange, that Santa Claus special delivers a present to their children on behalf of the family.  Christmas Eve Gala Dinner buffet will be served at the hotel Santa Claus. An aperitif and one glass of house wine, beer or soft drink per person are included.

Day 6 MONDAY December 25th

Scandinavian buffet breakfast at the hotel before departing on another day of adventure. This morning we will visit the Ranua Wildlife Park, situated 80 km south of Rovaniemi, 1 hour by coach. The Ranua Wildlife Park, established 1983, specializes in arctic and northern animal species. The spacious animal fencings are amid northern conifer forests, the natural habitat of most of the animals. You will be able to enjoy a guided tour of this beautiful park and visit different animals and birds. The guide will provide you with interesting and detailed information about the animals and their personalities, as well as answer whatever questions you might have about the animal life and artic nature. Enjoy a self-service lunch at the restaurant in Ranua Wildlife Park. After lunch, you will have one hour to visit the surroundings. You may want to visit the souvenir shops, the Fazer factory and the local wine shop with their unique selection of wines made from berries. Return to Rovaniemi, remainder of the afternoon is at leisure.

| | |
| --- | --- |
| CHRISTMAS GALA DINNER | INCLUDED |
| | |

In the evening enjoy a Christmas Gala Dinner buffet at the hotel Santa Claus. An aperitif and one glass of house wine, beer or soft drink per person included. 

Day 7 TUESDAY December 26th

Breakfast and the rest of your day at leisure until your regular transfer to Rovaniemi airport in good time for your departure flight.

END OF SERVICES

THANK YOU FOR TRAVELLING WITH VIA HANSA & BOREALIS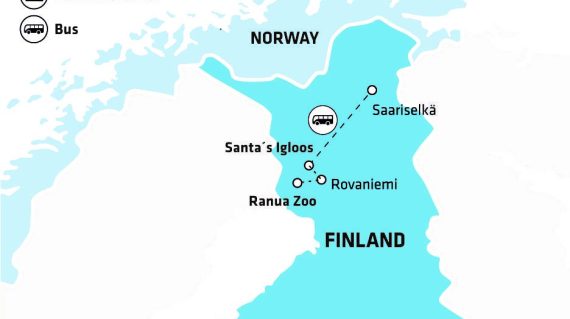 included in this tour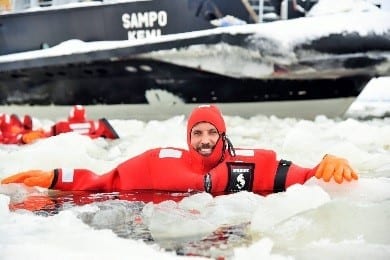 GUARATEED DEPARTURES 2023
| | |
| --- | --- |
| MONTHS: | DATES: |
| DECEMBER | 20 |
All rates are retail sales rates and given per person in Euro. The rates include all service taxes and reservation charges as well as the VAT percentage known on day of issuing the program of each country included in the respective programs. We reserve the right to amend the rates in case of governmental interference beyond our control.
We kindly ask you to send your reservations by e-mail to Guaranteed.Departures.Cph@viahansaborealis.com
The following information is needed to confirm the reservations:
Name & date of the tour, type of room, full name, sex, date of birth, nationality, passport number date of issue and expiry date. A valid mobile telephone number of the guests is required for emergencies during the trip. Confirmation is subject to availability and final confirmation. Our confirmation will be returned within 48 hours during weekdays (Mon-Fri). We should be glad to sign you up for a free sales agreement, information, and requirement thereto to be forwarded separately.
A non- refundable deposit equal to 20 % of the total value of the trip will be due 95 days prior to arrival. Full payment is due 45 days prior arrival to destination.  Christmas & New Years programs are subject to a non-refundable deposit equal to 20 % of the value of the latest by August 1st, 2021. Invoices will be forwarded in due time prior to the traveler's arrival to destination.
* Reservations made more than 45 days prior to the beginning of the tour, may be cancelled within 10 working days (weekdays) from date of booking without cancellation charges.* Reservations made between 45 days and 36 days prior to the beginning of the tour, may by cancelled within 5 working days (weekdays) without penalties.* Reservations made between 35 and 21 days prior to the beginning of the tour, may be cancelled within 3 working days (weekdays) without cancellation charges.* Penalty will be imposed for cancellation of reservations made less than 20 days prior to the beginning of the tour, no matter the time of cancellation as follows.
* Cancellations between 95 – 45 days prior to the arrival of the passenger are subject to a charge, per person, of 20 % of the total cost of the reservation.
* Cancellations between 44 – 36 days prior to the arrival of the passenger are subject to a charge, per person, of 50% of the total cost of the reservation.
* Cancellations between 35 – 15 days prior to the arrival of the passenger are subject to a charge, per person, of 75% of the total cost of the reservation.
* Cancellations made within less than 14 days of arrival of the passenger are subject to a charge, per person, of 100% of the total cost of the reservation.
* Late cancellations produced due to closed borders of the destination in question, due to Covid-19 will be exempt, except for services such as special accommodation, flights, special activities, safaris, or any special services where non-refundable deposits have been paid. Refunds for the remaining value to be refunded as a transferable credit. A voucher on the credit amount will be issued and valid to be used on any of our destinations within 12 months of the date of issue of the voucher.
* Name changes are considered as cancellation and rebooking and can only be done up to 35 days prior to arrival. Name changes will be charged with a fee of EUR 100.00 per name change.
It is the traveler's own responsibility to hold and present valid documents (passport & visa, Corona passport, negative Covid-19 test. to the immigration authority of each country. Via Hansa & Borealis Ltd. is pleased to provide a visa support letter as basis for the travelers' application to the Embassy of his or her home country should a visa be required for the travelers in question. In order for us to supply such a support letter we must receive the following information: full name, sex, date of birth, nationality, passport number date of issue & and expiry date.
Via Hansa & Borealis Ltd. shall not be liable for any delay or failure in its performance of any of the services when such delay or failure arises beyond its reasonable control, including without limitation, acts of terrorism, civil insurrection, revolution, blockade, labor disputes, strikes, material shortages, supplier failure, embargoes, rationing, acts of local, state or national governments or public agencies, utility or communication failures or delays, fire, acts of war, floods, epidemics, pandemics, and riots.
We reserve the right to amend the itinerary and/or included services without notice due to weather conditions or interference of local authorities, which is out of the control of Via Hansa & Borealis Ltd., and its suppliers. The weather in Norway, especially on fjord area, can be unpredictable during the season and road closures may be enforced by local authorities. Some activities may be subject to change or cancelation without notice due to governmental interference and weather conditions. Should the itinerary be amended due to unforeseen circumstances Via Hansa & Borealis Ltd. Is committed to find suitable alternative services.
Hotels confirmed for the respective dates are as per the program. There might be a variation on some of the tours due to a difficult booking situation or similar. Should the actual hotel vary from the program, the tour operator will always be notified in advance and prior to the arrival of the passenger. Alternative hotels will always be of the same standard and category of the initially confirmed hotel.  The Hospitality in the Nordic countries is not officially classified by the international star system. The classification of the accommodations described in our programs are as for the official classification, when existing, or with the number of stars based on the professional evaluation of Hansa & Borealis Ltd. The classification/evaluation applied are based on the date of print of the program and could vary from the date of print to the date of the start of the actual tour.
Hansa & Borealis Ltd cannot be held responsible if the equipment or facilities provided by its suppliers does not ideally suits or fits to the needs of young children. Due to the nature of the tours and the destination, children from 6 years and up are welcomed.
It is important to note that in all our winter programs can be lightly physically demanding and the passenger may be exposed to different kinds of light physical strain. Uneven grounds during walking tours, snow and ice are common surface in the Nordic destinations. All activities involving arctic sailing, snowmobiling, reindeer sleighs, husky sleighs & ice breaker will include appropriate thermal equipment provided for each guest prior to the start of each activity. Warm winter clothing and suitable winter shoe ware   are a must.
Any claim is to be submitted by e-mail within four weeks of the termination of the trip. All claims addressing contractual breach will be replied by Via Hansa & Borealis within eight days of reception. Subjective claims will not be considered, e.g., activities not carried out due to weather permitting etc. We strongly recommend all passengers and partners to notify immediately while on site, the Tour Director, our head office in Copenhagen or valid emergency contact for any irregularity during the trip.  Refunds/compensation will only occur in the case of contractual irregularities / lack of service delivery.
Luggage allowance is one suitcase & one piece of hand luggage per person. Additional allowance is subject to a supplement of 20 Euros per travel day. Via Hansa & Borealis shall not be liable for any damage or irregularity with the passenger's luggage regardless of the nature of the incident. Neither for the loss or damage of personal items.  Any additional incurred costs produced by personal incidents such as illness, theft, lack of personal travel documents, personal delays, or any incident not related to the specific trip and included services. All passengers are strongly advised to carry a travel insurance covering luggage, medical health care and other possible personal incidents.
Via Hansa & Borealis complies with all required privacy laws within the European Union General Data Protection Regulation (GDPR with effect from 25.05.2018. No information is disclosed, shared, or sold to third parties including Google and Facebook for its commercial use. We do not share information with third parties unless it is relevant for specific reservation. All confidential information is automatically deleted after its required use.  Irrelevant & confidential information is immediately & automatically deleted.
Via Hansa & Borealis complies with all governmental regulations in each destination securing the safety of its travellers & staff. All staff have been carefully trained in our COVID-19 SAFETY PROTOCOL and will at any time address any supplier or guest not complying with the needed safety regulation